Copyright © 2019 by Corridor Systems Inc. · All Rights reserved
Contact Us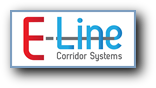 The primary application of E-Line technology is to act as a transmission line and
transport
a frequency band of interest from one location to another. In this mode, it operates as a high-speed, bidirectional, frequency and data format independent transmission line. For example: a backbone connection using an existing power line.
Additionally, E-Line technology can enable direct
access
to the transported signal. With integrated antennas along the transmission line a distributed antenna system (DAS) "information corridor" can provide RF connectivity. For example: a mobile wireless network with constant connectivity along a remote roadway.
See this
presentation
for more information comparing a multiple-emitter distributed antenna system (DAS) using E-Line with conventional cellular topology as well as other test results and characteristics